DOUBLE DIPSEA RACE START TIMES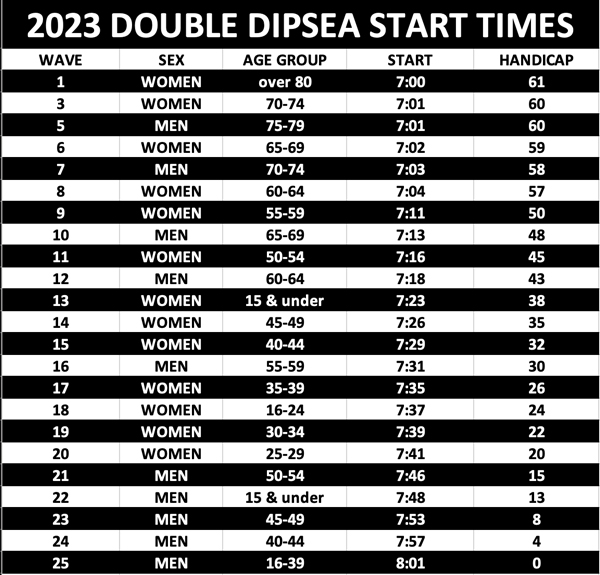 The Walt Stack DSE Double Dipsea race is a handicapped race. If you have never run a handicap race before you may find that it gives you a whole new perspective.
Instead of everyone starting at the same time, runners are grouped together in wave starts. If you are a very young or older runner, the handicap will give you a big head start. If you are relatively young, you will have to work hard to catch everyone!
We all tend to run in the same circle of friends at every race. This gives you a chance to meet new people and to say hello to a lot of people who normally are either in front of you or behind you!
Overall Course Time Limits
To be counted as an official finisher, runners must cross the finish line before 1:00 pm.
On-Course Cut-Off Times
10:25 am at the turnaround in Old Mill Park (mile 6.8)
11:00 am at Muir Woods Aid (mile 8.6)
12:10 pm at Cardiac Aid (mile 10.6)
This course gives runners a little bit of everything, including fire trails, single track, pavement and (of course) plenty of stairs.  Bring your sense of adventure, fun and humility!
To improve the safety of all participants, headphones and trekking poles will not be allowed on the course.  Use of headphones or trekking poles will be grounds for disqualification.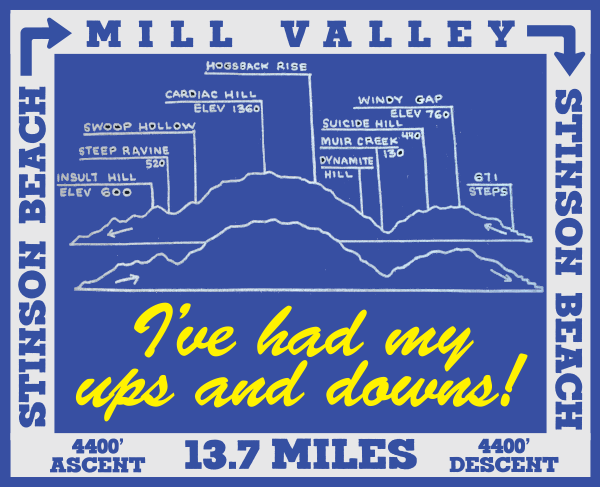 COURSE MAP & ELEVATION
(Click on map to view larger)
Course Marking
Do you really need course marking when the entire event takes place on one single trail?  Probably not.  You will be on the Dipsea trail 100% of the time.
Nevertheless, to assist you, the course will be marked with signage and some colored flags.  Regardless of course marking or confusions, all participants are 100% responsible for keeping themselves on the correct course.  While there is little chance of anyone becoming seriously lost, there is always the possibility of becoming confused as to which way you should be going -- particularly in the wooded areas where it is easier to get disoriented.
IMPORTANT: Regardless of what anyone may have done in the past or at other events on these trails, shortcuts are not allowed as part of this race.  Anyone caught taking shortcuts or skipping any part of the course will be deemed to be intentionally cheating and disqualified from the race they are running and from participation in any future Double Dipsea events.  Please don't be a cheater.
WATER STATIONS
Water stations will be stocked with water, sports drink, gels, pretzels, candy, etc. and will be placed at the following approximate mileage:
Water stations on course:
Cardiac - Mile 3
Muir Woods - Mile 5
Old Mill Park (Turn Around) - Mile 6.85
Muir Woods - Mile 8.6
Cardiac - Mile 10.6
Water station locations are shown on maps above.  Those needing water more frequently are encouraged to carry a water bottle or hydration pack.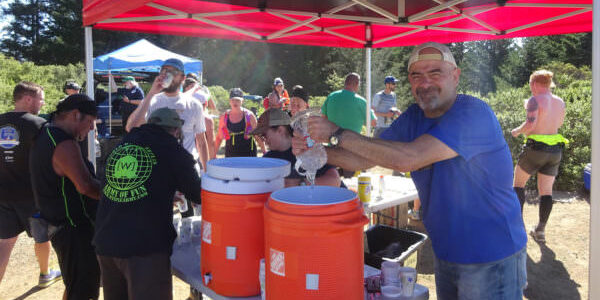 Thank you to our race sponsors, through their contributions, our sponsors help keep entry costs down and expose our runners their outstanding products and services. Learn more about becoming a sponsor.