How long is the race?
About 13.7 miles.
If there are any park-mandated changes to the course, it could end up a little bit more or less than the advertised distance.
Are runners allowed to use the same shortcuts as in The Dipsea Race?
No.
This is not a rule created by the DSE Runners or Brazen Racing, but compliance is necessary for the future of the race and so we must enforce it.
IMPORTANT: Regardless of what anyone may have done in the past or at other events on these trails, shortcuts are not allowed as part of this race.  Anyone caught taking shortcuts or skipping any part of the course will be deemed to be intentionally cheating and disqualified from the race they are running and from participation in any future Double Dipsea events.  Please don't be a cheater.
ARE PACERS ALLOWED.
No.  Anyone seen using a pacer (in the judgment of the race director) will be disqualified.
I am a very slow runner. Am I going to be out of place?
You won't be out of place at all. You will need to reach the cut-off times listed here to be an official finisher, but those are very achievable for most participants.
What is a handicap? Is that bad?
Not at all! A handicap race simply means that start times are staggered dependent on your age and gender. The idea is to start everyone at different times based on their overall assumed pace so that participants finish at about the same time.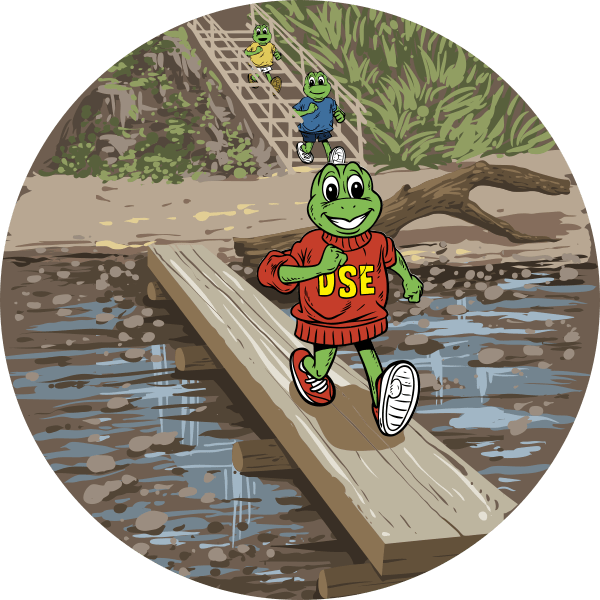 Can I wear headphones? Can I use trekking poles?
No. The Double Dipsea race is already treacherous a race run primarily on narrow trails and almost always with people passing from in front and behind.
The unique starting times and the terrain demand that all runners remain vigilant at all times and allow all possible space for other participants to pass by.
To improve the safety of all participants, headphones and trekking poles will not be allowed on the course.  Use of headphones or trekking poles will be grounds for disqualification.
Can I register on the day of the race?
No, this race will sell out well before race day and no race day registration will be available.
WHY IS THE ENTRY FEE SO MUCH HIGHER THIS YEAR?
Please see the "important note" on the Entry Info page.
Will there be age group awards?
Yes, we will have results and awards for age group finishers in (mostly) 5-year divisions (see the shirts and award page). If you do not receive your age group medal on race day, you can request it here.
Is there a time limit?
All runners must finish the course by 1:00 pm.  There are also on-course cut-offs that must be made.
Will there be somewhere to leave my warm-up clothes?
Yes, there will be a sweat-check area and these will be checked in and watched over by a volunteer. Please bring your own bag and do not leave valuables in your sweat bags -- we cannot be responsible for these items.
Can my dog run with me during the race?
Unfortunately no. As much as we love dogs and running with our own, not everyone is comfortable being around dogs (even if leashed) and for reasons of safety (for those with two legs and four) race participants are not allowed to bring their dogs along for the race.
Will the race be cancelled if it rains?
No. We always plan to hold the race, rain or shine. The course may be modified to account for weather conditions and/or direction from park management.
I don't care about my time and would like to start early. I've always started early. I need the extra time, so I just go off on my own in the morning. Can I do that this year?
Throughout the history of the Double Dipsea, there have been people who have started early and have been left off the results. These participants have been looking to tackle the course, but felt they needed the extra time to get it done. This has sometimes been done with people going off on their own and not telling anyone, sometimes with a wink and a nod from a race official. It's our goal to now better control this practice and minimize any negative effects on the handicapped ("regular") Double Dipsea runners.
If a person wishes to start early, they will be allowed to do it with the following conditions:
1) They must e-mail racedirector@brazenracing.com at least 3 weeks before the race to be on the list to do this.
2) No results will be published for anyone starting early (they will still receive their shirt, coaster, etc.). Only those starting at their assigned handicapped start time will receive official times.
3) Anyone starting early will be given a time (most likely between 5 and 6 am) during which they will be allowed to start. While we expect this to be a very small group, we will nevertheless spread their starting times out over an hour to help prevent any large groups travelling together before the regular race begins.
4) Anyone starting early will not be allowed to return (on their way back) through the Cardiac Aid Station until the first 10 regular runners have passed.
We expect this to be a very small number of people and encourage all runners to train hard and be ready to start with their handicapped start time.
Why would you allow someone to start early? Why not just clamp down and require everybody start with their mandated handicapped time?
We are going with this plan because:
a) Walt Stack, the DSE Runners, the Double Dipsea and Brazen Racing have all had a long-term common value of welcoming everybody regardless of their age, size or running ability. This is likely the source of the many exceptions in the past.
b) Whether we declare a prohibition or not, we suspect the practice will continue and, for safety reasons, we want to know about anyone who is out on the course.
c) We believe that it can be managed with minimal impact.
Do you issue refunds? Deferrals? Credit for next year's race? Credit for another race?
No.  Putting on a race can be a very expensive (and financially risky) endeavor. To a small extent, that risk gets shared by all who enter, since unexpected work requirements, illness, births, deaths, injuries, emergencies and any other sort of "life happening" can (and do) ruin plans for participation.
We do not offer refunds, credits or deferrals in the case that you cannot make it to the event.  This includes covid positive tests, running injuries, work obligations, scheduling conflicts, etc.  We require that all registering acknowledge and agree to this policy.
All entry fees are 100% non-refundable and credit is not issued for future events.  This includes in the case that the event must be cancelled due to an Act of God or other reason beyond the control of event management.  This has never happened before, but that doesn't mean it never will happen!  If the race were to be cancelled due to circumstances beyond our control, every effort possible would be made to find a solution to re-schedule, postpone, etc., but we are unable to make any promises or guarantees of what those solutions would be.
Do you have a waitlist?
We do not have a waitlist.
Thank you to our race sponsors, through their contributions, our sponsors help keep entry costs down and expose our runners their outstanding products and services. Learn more about becoming a sponsor.