Update: 8/27/20: Due to state and county orders related to the Covid-19 shutdown, the aspirational date of 9/13/20 isn't going to happen.  If circumstances change, and there is a possibility to put this event on in the coming months, we will be ready.  Any new information will be posted here and overall updates on event production plans are here.
Event Update 5/26/20: This event has been rescheduled for September 13, 2020, pending the restrictions being lifted sufficiently for the event to take place.  Modifications of the course and/or event format may be necessary.  Updates will be posted as new information becomes available. 
The legend of the Double Dipsea Race Continues!
First held in 1970, the Walt Stack DSE Double Dipsea is a not just another tough trail run. It's a sadistically designed race, intended to test your patience and perseverance. It rewards those most able to overcome adversity and show grace under fire. It leaves defeated those unable to adapt and quick to give in to frustration. Walt Stack, founder of Dolphin South End Runners Club (DSE) considered it his favorite race and it eventually took his name to honor and remember him.
It's not for everyone!
It's not just the hills (though there are plenty) and it's not only the steps (lots of those, too). What really makes this race the madhouse of trail runs is the perversity of the handicapped start times. With this handicapped format, every runner is forced to deal with a barrier much more difficult than hills or steps: other people!
The slowest start first and the fastest start last. If this race were run on roads, this would be no big deal. But these ain't no roads! Mostly single-track from start to finish, virtually every runner is put in a position of constantly passing and being passed from in front and behind the entire race. It's hard to imagine designing a race that would make it more difficult to simply run the trails. As course record holder Alex Varner put it: "Finding ways to safely get around all the other runners and deal with the constant passing is a major part of the race." He should know. He won in 2012, 2013 and 2014, and every year he had to pass every runner on the course going out and coming back!
Fast or slow, as long as you can make the cut-offs and are ready to deal with the stress of so much passing (and being passed), we are happy to have you. Walt Stack and the Dolphin South End Runners may have created a sadistic course, but the race (like all DSE races) has always been and will continue to be welcoming to runners of all ability levels.
It begins at Stinson Beach, runs the length of the Dipsea Trail to Mill Valley then back to Stinson Beach. Epic views, adventures -- and lots of stairs -- await you!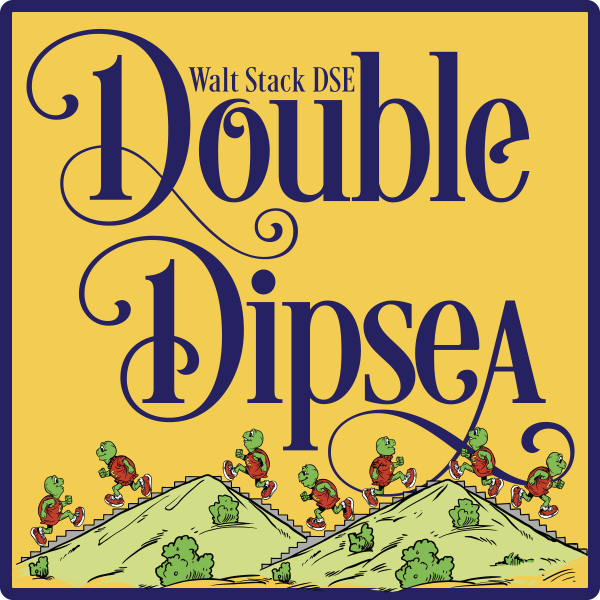 EXPERIENCE THE UPS AND DOWNS of DOUBLE DIPSEA on June 20, 2020!