BAY BREEZE HALF MARATHON / 10K / 5K
All runners will receive custom finisher medals and custom shirts (cotton and tech shirts available). More info on shirts/awards page.
Age group awards will be awarded to the top 3 finishers in 5 year categories (less for the younger ages).
All races will be professionally timed with bib-tag timing.
Note: We will have many extra shirts at the race, but because we have to print our shirts well ahead of race day, we can only 100% positively guarantee requested shirt sizes to those who sign up by 1/21/17.
For half marathon participants who wish to hike the course and take more than 4.5 hours, we will offer a "Hiker Division" start at 7:30 am. Those starting at 7:30 should carry water as the first and second aid stations might not be 100% up and running, depending on the hikers speed. Hiker starts will not be eligible to win the race or for age group awards, but will be listed as official finishers in the Hiker Division and will still receive finisher medals.
TIME LIMITS
The half marathon will start at 8:00 am and the course will have a time limit of 4.5 hours. Runners must reach the 4th aid station (mile 10) by 11:30 am (20+ minute per mile pace).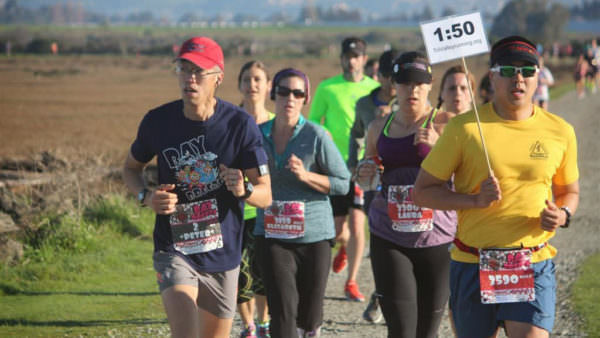 WATER STATIONS
Water stations will be fully stocked with water, sports drink, gels, pretzels, candy, etc.
Approximate water station locations:
5K: Mile 1.25
10K: Miles 1.5, 2.9, 3.25 and 4.68
Half marathon: Miles 1.5, 2.9, 6.5, 10.2 and 11.6
Water station locations are shown on maps above. Those needing water more frequently are encouraged to carry a water bottle or hydration pack.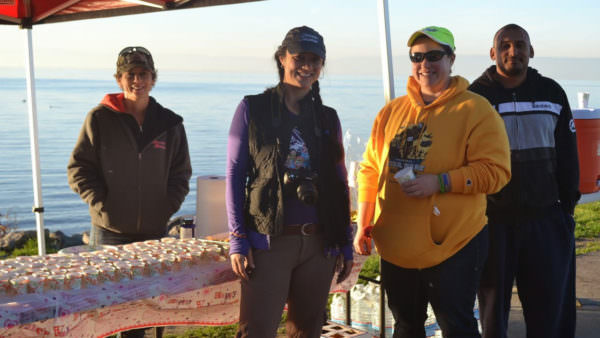 REGISTER TO RUN
Join us on February 11, 2017 for a scenic 5K, 10K or half marathon by the bay!